NDU Nursing Past Questions and Answers PDF; Are you looking for admission into the NDU Nursing ? If yes, get the NDU Nursing past questions and answers, read it, study it an prepare for the Entrance exam.
We have complete and compiled NDU Nursing past questions and answers. We also provided accurate answers to the questions to help you study for a better preparation. The NDU Nursing past questions and answers is available in PDF. You can download it and print. You can also use it like that on your phone or computer.
As already known, every examination comes with  a given time frame, therefore this past questions and answers keep you on the time track.
Other benefits includes having full access to previous examination question and answers as well as the marking scheme. The use of this past question keeps you fit and ready for the examination and kicks out the fear for the entrance examination. this is a swift and save move towards the preparation for the forth coming entrance examination. It is reliable and trusted.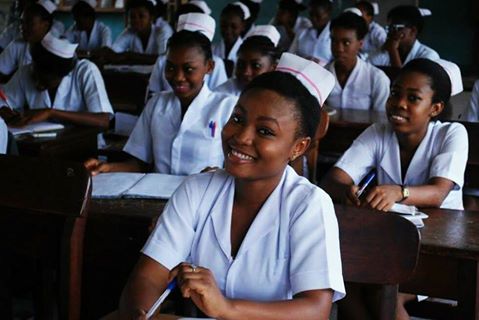 Check out the sample of the NDU Nursing past questions and answers below.
(1) Which of the following metals cannot replace hydrogen from water or steam?

(a) Sodium

(b) Magnesium

(c) Iron Calcium

(e) Copper

(2) The most common type of chemical reaction which alkanes undergone is

(a) Substitution

(b) Addition Condensation

(d) Polymerization Double decomposition

(3) By means of filtration, one component can be obtained pure from an aqueous mixture of sodium chloride and

(a) Potassium nitrate

(b) Sand Lead nitrat

(d) Glucose

(e) Starch

(4) The oxidation state of manganese in potassium termagant is

(a) +7

(b) +5

(c) +3

(d) +2

(e) +1

(5) Nigeria's newest state to be categorized as Oil producing state is

(a) Anambra

(b)Enugu

(c)Lagos

(d)Borno

(e)Rivers
If you want to get admission this year, then get your past question today. See how to get it below;
How to Get NDU Nursing Past Questions and Answers PDF
Pay the sum of N2,000 to the account below
Call or send message to us through this number to show your interest 09026337386 (whatsapp number 07061248865).
You must have these platforms Email, whatsapp, facebook or any other favorable to you, for a pdf file transfer.
The cost of NDU Nursing Questions & Answers is #2000(two thousand naira).
NDU Nursing Past questions and answers can only be send when payment is made first.
Payment for NDU Nursing Past Questions & Answers is to be made into this ACCOUNT bellow.
Account Name: Imohabasi Bassey Okon

Account Number: 0002127715

Bank Name: Stanbic Bank
MOBILE TRANSFER IS ACCEPTED
After Payment, send the following;
(1) Email address
(2) depositors name
(3) amount paid
(4) Proposed Course of Study
Feel very free to call or message this phone number (09026337386) for inquiry..
Why You Need COOUTH School of Nursing Past Questions and Answers
NDU Nursing officials do not have the time to set new questions. And all they do is to pick questions from past  questions. It is now required of you to treat all NDU Nursing past questions for you to pass successfully.
The use of this past questions and answers increased the statistics of admitted candidates.
NDU Nursing past questions and answers serves as a guide to study.
It gives you the area of concentration. most people rewrite this exams because of spending time to study unrelated topics for the NDU Nursing exams. meanwhile using this past question and answers makes it more definite with a good sense of direction.
Using the NDU Nursing past question increases your speed of studies and enables you cover a larger amount of topics as to keep you fully prepared for the examination before time.
 It makes the examination tension lighter and boost your confidence level. Using the past question prepares you earlier than       normal and  gives you enough time to revise before the entrance examination date. Previous candidates can attest result of this.
The use of this past question and answer prepares your mind for what you should be expecting on the exams date, the past question comes with the format of how the exams are being set.so, you are fully loaded with the proper format of the examination therefore showing you before time what you should expect and how you carry out the answering of the question, this avoids a situation whereby candidates are caught unawares. so to avoid unnecessary surprises of not knowing how the examination will look like it is advised that you download the free PDF file of this past question and answers so as to show you how the examination will be done.
How to Pass NDU Nursing Department Entry Exams with Ease
Effective Study; It is said that the level of one study determine his/her result, YES it is true. Every serious candidates that wants to pass his/her exams is required to spend some time to study. That is why we brought a well compiled past questions and answers to you for an effective study. The secret is that schools in Nigeria set exams base on the syllables, and as such the past exams questions is always revisit.
Syllables / Related Materials; This is where many candidates fail, by studying unrelated materials. No matter how voluminous a book for a particular course is, there is always the key topics highlighted for lecturing, most students study on assumption. Related Materials are good for study, mostly past questions and answers. Past questions and answers made exams very simple for me over the years i was in school.
Distraction; The secret is every time one is preparing for success there must be some form of distraction, so many candidates form of distraction when studying for exams is addiction, friends, fun, social media, internet etc. Time spent on irrelevant things is the time delay for excellent and promotion.
Stress; Most people do not know this, humans mind do not respond to studies when it is stressed beyond it capacity. It is expected of every candidates to sleep well and put the mind to rest before going into a severe study. It is advisable to study bit by bit, many candidates do prefer to study a day to exams date, this is not good enough for the brain.
Confident; This is very important to every candidates, research shows that most schools in Nigeria teaches to intimidate students in exams, That is why a lot of candidates will spend time to study but during exams forget almost all they studied, the reasons are as follows;
The reasons why Candidates forget what the spend time to study
Intimidating words by lecturers, invigilators, friends etc
Ineffective Study
Bad posture of study
Late preparation of study
Unrelated materials for studying
Poor notes
Poor understanding
Tags: NDU Nursing Past Questions and Answers, NDU Nursing Past Questions and Answers PDF Download